Get to Know Martha Gellhorn
Fun and Interesting Facts About Martha Gellhorn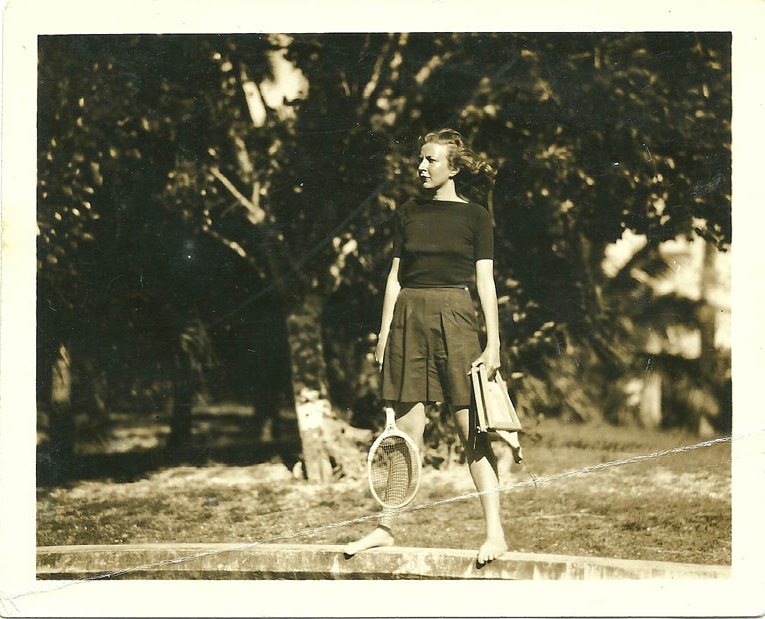 Courtesy of Museo Hemingway Finca Vigia
Martha, Hemingway's third wife, and Hadley, his first, grew up near Forest Hills Park in St. Louis, less than three miles apart. Though Martha was eighteen years younger than Hadley, they both have November birthdays, one day apart. Though the two women never met, Martha's father, George Gellhorn, a prominent gynecologist in St. Louis, was Hadley's doctor.
---
Martha got her start writing poetry, in high school and at Bryn Mawr, where she was not a particularly successful student. When she dropped out her junior year, she wrote to newspapers all around the country begging them to take a chance on her. Just after her twenty-first birthday, she took a job in Albany, NY, as a cub reporter for the Times Union. The only female reporter on the paper, she had to fend off the sexual advances of the city editor, who was often drunk. She lasted six months.
---
Later that same year, she moved to Paris with two suitcases, a typewriter and seventy-five dollars, as her literary heroes, Hemingway and Fitzgerald, had done. She took the cheapest hotel room she could find, later learning it was in fact a brothel.
---
In the summer of 1931, when Martha was twenty-two and trying to elbow her way into journalism, she traveled to Mexico to look for material that might make good copy. She knew no Spanish, had no passport and hadn't received the required vaccinations. At the border, when she was asked for a letter from her parents saying it was all right for her to travel alone, she invented a story on the spot, saying she was the fiancée of the US Ambassador's son, and they let her through. In Mexico City, she tracked down Diego Rivera one day and climbed a scaffold to talk to him while he was painting. Later, she marveled about his "delicate hands," his dark polka-dot shirt and his laugh, "an absurdly pleasant chortle." That same summer, she also interviewed a female bullfighter, the poet Robinson Jeffers, and Jack Dempsey.
---
Martha published her first novel, What Mad Pursuit, just before her 26th birthday. It was widely panned, and later embarrassed her. Of all the forms of writing, she considered the novel the highest, and always hoped to be best known for her fiction.
---
At the age of twenty-five, Martha took a job as a traveling investigator for the Federal Emergency Relief Administration, to help paint a narrative portrait of the effects of the Great Depression. She was the youngest of the sixteen investigators, and worked alongside the hard-nosed journalist, Lorena Hickok, a close friend and intimate of Eleanor Roosevelt. After learning that her reports were being shared with Mrs. Roosevelt, Martha was surprised and thrilled to be invited to the White House. Very quickly, Eleanor became a hero for her, as well as a mentor and friend. Their decades-long correspondence was among the most significant and emotionally resonant of Martha's life.
---
Martha was one of the first female war correspondents and is widely considered to be the most significant war reporter—male or female—of the 20th century. She covered over a dozen major conflicts in a career that spanned six decades.
---
June 6, 1944—D-Day—was the largest sea invasion in history. Britain accredited 558 journalists to cover the story, but Martha was not one of them. Angry with her for choosing her work over him, Hemingway contacted Collier's, the magazine she reported for, and offered his services, effectively replacing her on the masthead. Undaunted, she stowed away in the lavatory on a hospital ship. Disguising herself as a stretcher-bearer, she went ashore at Omaha Beach, in one of the deadliest battles of the war, and worked into the night helping to recover the wounded. Reportedly there were 150,000 men on the beach and one woman—Martha.
---
She saw herself as a champion of ordinary people in extraordinary circumstances, and worked hard, all her life, to give voice to the voiceless. She never wanted to be famous, and was enraged to know that the larger world knew her mostly through her marriage to Ernest Hemingway, which lasted from 1940-1945. "Why should I be a footnote to someone else's life," she noted ruefully in an interview, pointing out that she'd been her own woman and writer before meeting him, and would go on being just that. She in fact went on to publish for nearly fifty years after leaving him, writing a total of five novels, fourteen novellas, two short story collections and three books of essays.
---
Martha was the only of Hemingway's four wives to leave him. He never forgave her. She became famous for never allowing his name to be spoken in her presence.
---
A lifelong traveler and expat, she was fond of the maxim, "leap before you look," and explored fifty-three countries in her lifetime as well as every state in the US, barring Alaska. "I have only to go to a different country, sky, language, scenery, to feel it is worth living," she wrote.
---
Travels with Myself and Another, Gellhorn's only volume of autobiography was published in 1978, when Martha was seventy. Centered on what she described as "the best of my worst journeys," the book was turned down by fourteen publishers before Allen Lane (who founded Penguin Books) offered her £ 5000 for a three-book deal. When the book was released, it hit a nerve and sold well. It has been in print almost continually since then, and is the best known and most well-loved of her fifteen books.
---
While traveling in Israel in 1949, Gellhorn met Leonard Bernstein by chance in a "scruffy bar" in Tel Aviv. A few months later, Bernstein turned up unannounced (with a grand piano in tow, no less!), in Cuernavaca, Mexico, where she was living and proposed he move in with her for a while. She convinced him to rent a house up the road instead. One night, he persuaded her to try marijuana with him for the first time, having heard from local musicians that it "helped the music flow." They were both sick all night, with "appalling nightmares." While never romantic, the two remained close friends and confidants for decades.
---
Later in 1949, when she was forty-one and unmarried, Martha visited fifty-two orphanages in Italy before finding a nineteen-month boy, Alessandro, and adopting him. Eleanor Roosevelt provided her with the necessary references for the adoption, and also helped Sandy obtain American citizenship. For the 28-hour journey to America, Sandy had just recovered from the measles, and was teething; Martha had never before changed a diaper.
---
Gellhorn believed that keeping fit was a form of "public service," and made it a point to keep her weight at exactly 125 lbs. for most of her adult life.
---
She loved Old Grouse Whiskey, dime store crime novels, and to swim in the sea alone.
---
Nearly blind and unable to work, she committed suicide in 1998, at the age of eighty-nine. Even a few weeks before her death, she had only just given up swimming and snorkeling, and was planning a long journey to Egypt.